There is perhaps no other cocktail that is more well-known, celebrated, and disputed than the martini. Today's cocktail, La Fée Verte (aka the Green Fairy) Martini, is my spin on the iconic drink. La Fée Verte Martini combines gin with sweet and dry vermouths. However, it's real magic comes from the inclusion of absinthe, another iconic spirit affectionately known as "the green fairy."
In my opinion, the perfect classic martini combines 2 oz of gin, 1 oz of sweet vermouth, a lemon twist, and typically a dash of bitters. The recipe for a classic martini is incredibly versatile, however. Many people prefer their martinis dry, opting for a dry French vermouth and an olive garnish, while others make it "dirty" by including a splash of olive brine. Many bartenders also choose to serve their martinis with equal parts dry and sweet vermouth. The proportions of gin to vermouth are also flexible– a ratio of up to 4:1 is common. Some people even like to make their martinis with vodka, but for me, gin is a must!
The quality of spirits is quite important when making a martini, as it is a very boozy cup! There are no liqueurs, syrups, or juices to hide poor quality spirits behind. For La Fée Verte Martini, I used Death's Door gin, Carpano antica sweet vermouth, and Dolin dry vermouth. It's a huge misfortune that most Americans' only experiences with vermouth is with cheap Martini & Rossi. Let me tell you, there is a delicious world of Italian, French, and Spanish vermouths out there for you to explore– many are created to sip simply poured over an ice cube and garnished with a citrus twist. It's hard to imagine ever doing that with Martini & Rossi. K and I are on a major vermouth hunt, so expect to see a new post exclusively on this topic in the coming weeks!
The absinthe in La Fée Verte Martini comes from St. George's Distillery in California. St. Georges Absinthe Verte was the first absinthe produced in America after the ban on the spirit was lifted in 2007. Absinthe has had a long, troubled history. The spirit was banned in the U.S., and many other countries such as France, Belgium, and Switzerland, during the early part of the twentieth century for its alleged hallucinogenic properties. The chemical compound thujone was blamed for absinthe's reputed effects, but recent consensus shows that since the compound appears in such small quantities within the liquor, it is unlikely to be responsible for reported hallucinations. In 2007, the U.S. lifted its ban on absinthe, as long as produced spirits are tujone-free. Despite accounts by writers and authors recounting their visits from the "green fairy," there is little scientific evidence that absinthe is more dangerous than any other liquors.
Absinthe has quite a strong taste, which is why it appears in such a small quantity in this martini. The absinthe gives La Fée Verte Martini a herbaceous kick of licorice and anise, which is complemented by the light citrus  imparted by the lemon peel. The absinthe also pairs well with the distinctive citrus and fennel notes of the Death's Door gin. The dry vermouth slightly tempers the juniper front-notes of the gin, while the sweet vermouth lends a complex, yet light sweetness. Finally, I decided to stir rather than shake the drink– I wanted to maximize the smoothness of the martini by limiting small ice shards and bubbles, which are often the result from shaking. Overall, I think La Fée Verte Martini is a fun take on an old classic!
La Fée Verte Martini
-2 oz gin
-3/4 oz sweet vermouth
-1/2 oz dry vermouth
-approximately 1 1/2 barspoons of absinthe, divided
-1 generous dash Boker's bitters
-lemon twist, as garnish
Pour approximately a 1/2 barspoon of absinthe into a coupe glass. Gently rotate the glass at an angle, so that the absinthe coats the glass walls. In a mixing glass, combine the gin, both vermouths, 1 barspoon of absinthe, and the bitters. Stir with ice until chilled. Strain into the absinthe coated coupe glass. Garnish with a lemon peel. 
---
Today's post is my first creation for Mixology Monday, a once monthly "online cocktail party" to share drink recipes based on a common theme. This month's theme is "That's Not A Martini!" Dagreb from Nihil Utopia, gave the following inspiration for this month's challenge:
"A Telecaster's not an Esquire. A Melody Maker's not a Les Paul Jr. A Marauder ain't a Crown Vic. A Blue Moon is no Martini… well, almost. Take away the dash to a quarter ounce of Creme Yvette and we're left with gin (a must!), dry vermouth, and orange bitters. That's a Martini! It's at least one canonical Martini anyway. This month's Mixology Monday theme is that which is almost, but not quite, a Martini. Perhaps there are dashes (or more) of a liqueur (or two) added to the basic structure. Perhaps a Fino Sherry (or other fortified/aromatized wine) is standing in for vermouth. Maybe there's Oxygene instead of bitters? Gin, certainly! Use your imagination! Use your library! Make a Martini, that's wearing a hat!"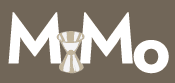 Enjoy, and be sure to follow us on Twitter @SpiritedAwayMA!